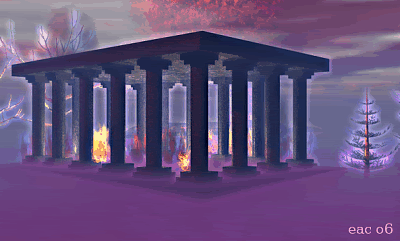 Sara Teasdale At Fontainebleau


Infant
she arrives in Etruscan autumn
bearing the gift of ghosts
sighing across centuries of sea.
Barren
she sees endless Fall
in halls bare of the dead boar
of Saint Louis.
Woman
she tastes victory
under the sign poetess
birthing breathing souls
on the blood red floor
of October foliage.
[copyright EAC]
NB
:
The animation is a new type of 3D animated .GIF image, which I call the Gasperini Wiggle, after the inventor, Jim Gasperini: http://www.well.com/user/jimg/

The reference of the text is to Sara Teasdale's "Fontainebleau"
.