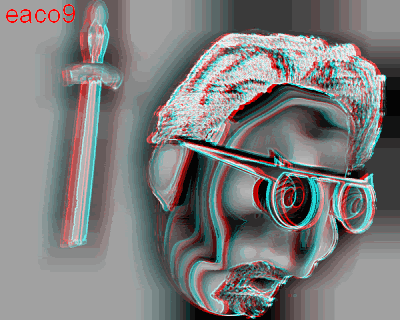 "The sword? Where's the sword? I have tried everything, and the sword just disappears. I know I put it in there somewhere! This is most curious! I need more juice! More juice, Igor! Igor, more juice"
[Doctor Thorndike Pickledish]
Not to worry, Pickledish is on the case, and they don't call him Doctor Pickledish for nothing.
Consult his recent researches into analyphization and video at his blogspot here: "Aha!":
http://thorndikepickledish.blogspot.com/2009/02/aha.html
and "Adventures in 3D!", here:
http://thorndikepickledish.blogspot.com/2009/02/adventures-in-3-d.html
But Dr.Pickledish is a generalist of wide note and repute, so be sure to visit his blogspot regularly not just for Stereo 3D anaglyphs, but for the whole gamut of his art and commentary on world affairs, news, popular culture, and advanced UFOlogy.
_____________________________________________________________________________________
N.B. This is an animated anaglyph designed to be viewed with Red/Blue 3D Glasses, Red Left, Blue Right. Want to learn more, including where to get the glasses and how to make anaglyphs, visit Thorndike Pickledish's blogspot today, or tomorrow, or next week, but visit.